Enroll at Middle College
Enroll at Middle College Today

Information about Enrollment at Middle College High School.

Find out what students are saying about Middle College High School!
---
Seattle Early College (SEC) Program
SPS Enrollment
Visit the district Enrollment pages for more information. New students must first register on the Enrollment webpage before participating in the open enrollment. 
Seattle Public School Choice
School Choice for 2023-24 is now closed. The School Choice process for 2024-25 will open on February 1, 2024.
Every Seattle Public Schools student is assigned to their attendance area school based on where they live. Families can also apply to request that their student attend a different school through the Open Enrollment for School Choice Process.
Questions: Please reach out to Phillip Page at plpage@seattleschools.org.
---
Enroll in Seattle Early College (SEC) Program
Enrollment Details for MCHS
Our North Seattle College and Seattle University sites each enroll 20 students at the beginning of the academic school year. These students will spend their 9th and 10th grade years earning high school credits. In their 11th and 12th grade years, students will enroll in the Running Start program through one of the Seattle Colleges where they begin earning both high school and college credits.
MCHS Staff will be on Seattle College campuses to support students while they take their Running Start classes. Students who work diligently in the Running Start program may graduate high school with an Associate's Degree. 10th graders can join the cohort if there is space, so please reach out if you are interested in joining SEC in 10th grade.
To attend Seattle Early College at Middle College High School for the upcoming School Year, current SPS students can contact us for more information. All applicants must attend complete the following process.
The information in the Entrance Form will determine program/class placement in Seattle Early College at Middle College High School. This information allows us to get a picture of your student and how to serve them. We also hope this process gives your student information about SEC and can make an informed choice about attending.
Attend an Open House or Info Night
Email the completed SEC Entrance Form to plpage@seattleschools.org.
Participate in an interview with SEC staff
Note: Students to the district must first enroll in Seattle Public Schools.
Questions: Please reach out to Phillip Page at plpage@seattleschools.org.
---
Our School Model
Middle College HS is a small, cohort-based community of students. Our program starts with 9th and 10th graders taking courses at one of our sites located at North Seattle College and Seattle University. Rigorous courses in 9th and 10th grade prepare students to attend our full-time enhanced Running Start program in 11th and 12th grade.
Our goal for our students is to not only graduate with both their high school diploma and their associate degree but that they will gain the skills and experience to successfully navigate their lives.
---
Directions to Our 2 Campus Locations
MCHS @ North Seattle College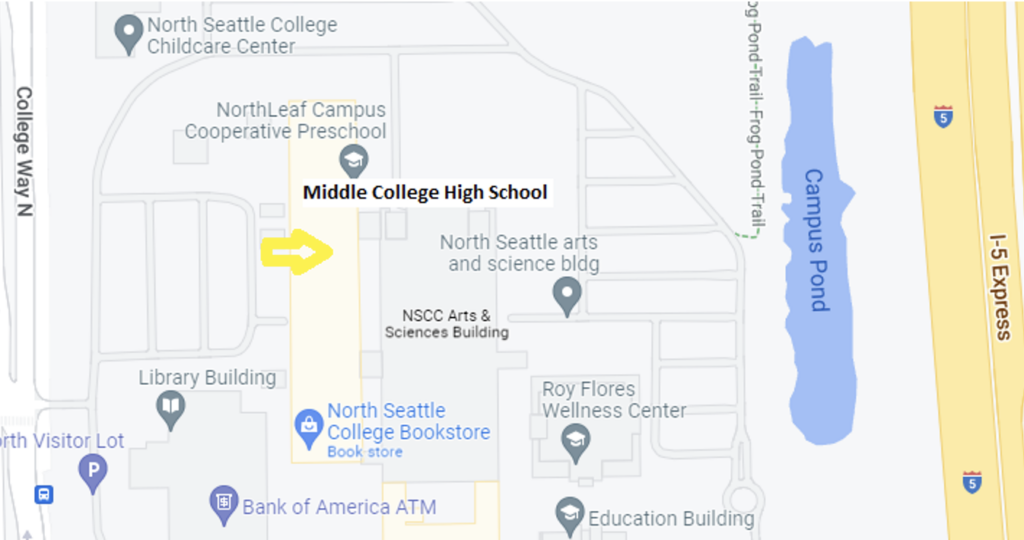 9600 College Way N IB Building Room 3311 Seattle 98103
Located on the north end of the North Seattle College campus in the Instruction Building, Rm 3311 (3rd floor). Phone: 206-934-3957.
Enter via N 100th at College Way N. Turn right into Parking Lot N just at the entrance to the John Lewis Memorial Pedestrian Bridge.
---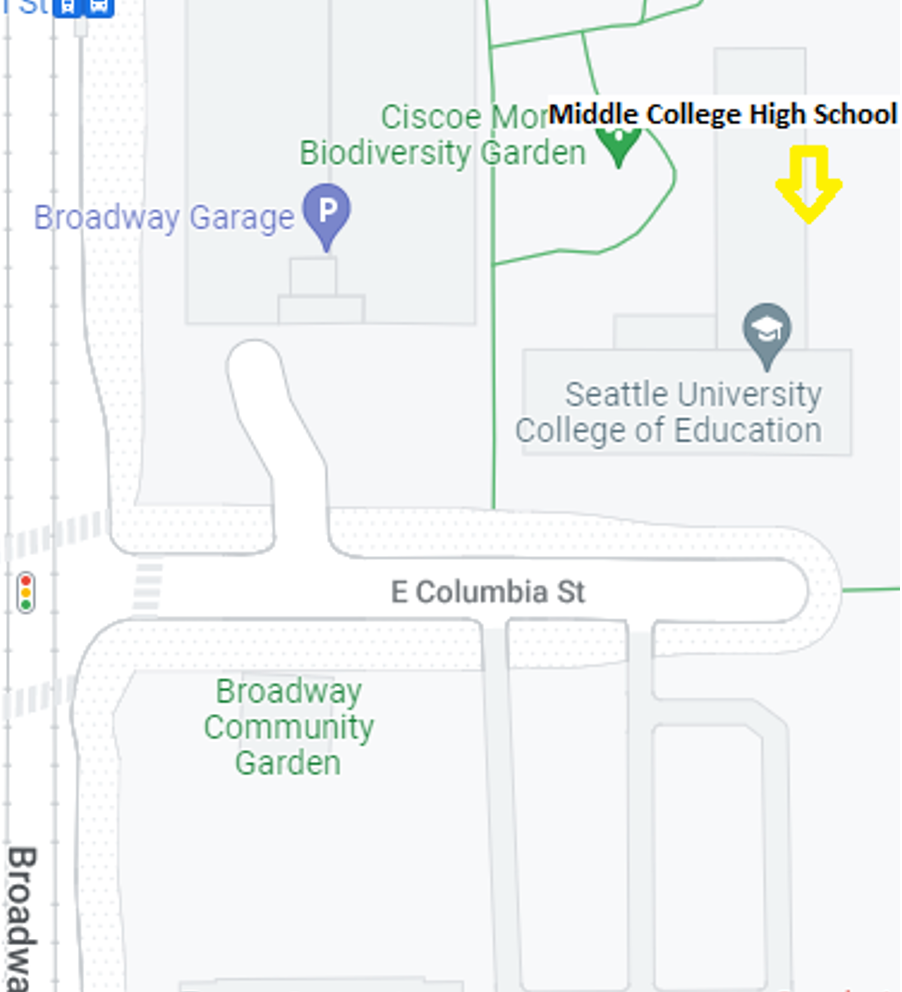 MCHS @ Seattle University Campus
901 12th Ave, Loyola Hall 104, Seattle, WA 98122
Located on the Seattle University campus at the east end of Broadway and Columbia. Phone: 206-720-3078.
Enter "Broadway Parking Garage" for accurate driving directions.